I N T E R V I E W S

Sepultura
"30 Years and Conquering"

Interview with Andreas Kisser
By: T. Ray Verteramo | Published: Friday, May 29, 2015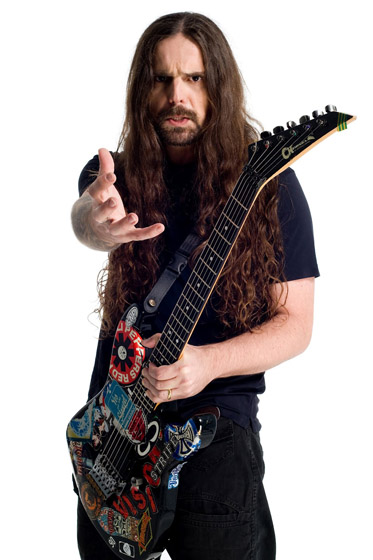 These men have much to celebrate; the first is that they've even survived.

Stemming from a world better known for its exotic birds and beaches, resilient indigenous people, and class dissention than its Metal, and then vying for a place among the British and American giants in the 80s, Sepultura emerged against the odds. But, the explosion of "Arise" in 1991 marked their place for good, earning the respect that stamps their passports and still enjoy today, though the respect may be more for the volume than the music.

In other words: They're so gloriously aggressive, many fans tend to overlook, or don't appreciate, the complexity of the music. Sepultura could very reasonably be considered among the pioneers, or even the fathers, of Prog Death metal. Sometimes the magnitude of the quake overpowers the quality of the soil.

Axeman Andreas Kisser, now currently on the road, in the midst of the massive North American leg of their 30th Anniversary tour, discusses Sepultura's own "roots" and the essence of what they're celebrating.

TRV: According to news reports, it looks like you guys are kicking ass and taking names.

Andreas Kisser: It's great, really. It's awesome! We started at Rock in Rio in Vegas a few weeks ago, doing the tour with Destruction and Arsis in North America now. Celebrating 30 years, it's a very special year for Sepultura.


"We all change and it's going to happen either way, especially in music. Sepultura was never scared to risk, to try different things, to go to different territories, to learn new things." --Andreas Kisser
TRV: Apparently, the states agree with you! I have been hearing nothing but rave reviews on your performances and it looks like you guys are having a great time.

Yeah, definitely! The last time we were here was like two years ago or so. And it feels great to be back – I wish we had more opportunities to play here. I can see now that more festivals have been added, but it's still not at the level as it is in Europe. This is unfortunate, but perhaps it's something to work toward for the future.

TRV: I think it's safe to say that the American Metalhead community, as a whole, are all hoping to get more festival traffic. But, unfortunately, it's very expensive –

-- Yeah, yeah it is.

TRV: So, to see you take a headlining stage in something like Rock In Rio was very exciting. Did I understand correctly that Steve Vai has been a friend of the band before joining you onstage that night?

We've known each other for a long time, but more like backstage type of vibe, in Brazil. He's played there many times and every time he's there, I'm there because I'm big fan of his music. I've followed his career from Frank Zappa, to David Lee Roth, of course, when he exploded into the world, and then his solo career. And then to have him together to play with us was amazing. Everything was so 'right!' Much better than we already expected. And also, we have people who work together with Sepultura and him – lawyers and people from labels, like that.

Actually I talked with him a few years ago; there was talk that our album was to be released through his label. But, that was before we signed to Nuclear Blast. But, that was also a cool time to talk about different stuff, too. He's a gentlemen, he's a genius. We love his music so much and for him to accept this challenge for him to play with us on stage was amazing. He had a great time as well.

TRV: Even the sound check was unbelievable, but I have to admit when I think of Steve Vai, I don't just think of this guitar genius and the devil in the crossroads –

*laughs*

TRV: I thought, "Wow. Okay, this is a reeeeeally big departure from 'Yankee Rose'…and it's working."

*laughs* Yeah, it's crazy! We did the percussion song, "Kaiowas," for him to improvise on the guitar and it was great. We also did a little bit of one of his songs, "Bad Horsie," which is very heavy, very groovy. I think it fit so well for the stuff that what we do and it was great to represent both bands, not just Steve Vai playing Sepultura music, but we playing his music, as well.

It's great, because we did so many different things with so many different groups; percussion groups from Brazil and Japan, we've played with Mike Patton and Jason Newsted, so many different musicians. And now to celebrate our 30 years with such a special show, Rock In Rio, in Las Vegas, the first time this Brazilian brand was brought to the States, is such a big honor for all of us. And it was great kickoff the tour, too. It was broadcasted to the internet and millions of people saw that, so it was a real great start. And we thank Steve Vai for all his energy and professionalism, and love and passion for what he does. It was amazing. We were so privileged to have an opportunity like that. It was awesome.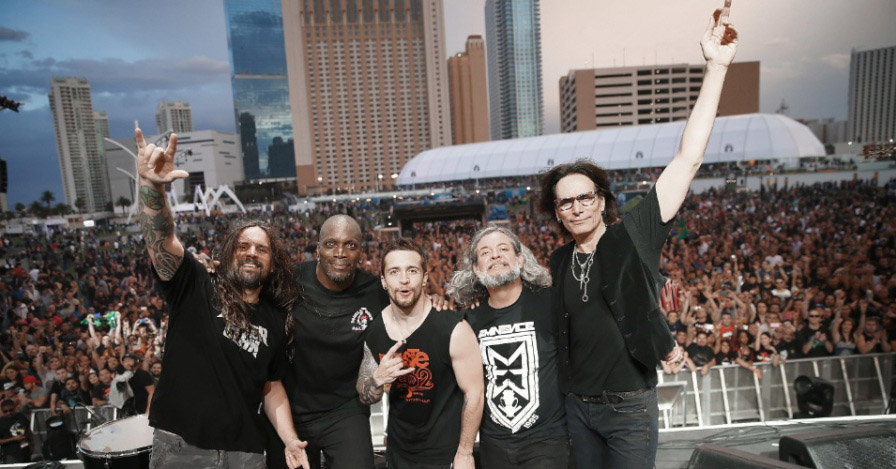 TRV: That speaks volumes about the progressive element of Sepultura that frankly, people don't talk about. Do you feel people overlook the innovative elements of the band's musicianship?

You know, yeah. People are lazy. They like to have a pre-concept of everything and they miss a chance for themselves to go and see things change. And that's part of life, itself. We all change and it's going to happen either way, especially in music. Sepultura was never scared to risk, to try different things, to go to different territories, to learn new things. In 30 years of our career, we've been to 73 countries so far. It's an amazing mark.

Regardless of politics and religion and laws and anything else, we've been to many cultures and that keeps us very fresh with ideas. We have the privilege to see bands all over the place, taste food and drink, meet people, get different ideas. It's great because in our art, in our music, progressing with new things is the spirit of Sepultura. Regardless of the formation of this band, we always have this kind of hunger to seek for new things and not really follow any formulas.

All I ask is for people to put the political stuff aside and really listen to the music itself. We work with many different soundtracks for different ideas and different storylines. We do a lot of extra stuff, aside from Sepultura, and that shows the capability of Sepultura to grow. And that's something we didn't get to do here in the States that much. Hopefully we'll have more time to show that we're capable of taking heavy metal and thrash metal, heavy music in general, to different places. Steve Vai was one of those examples.


"Regardless of politics and religion and laws and anything else, we've been to many cultures and that keeps us very fresh with ideas. We have the privilege to see bands all over the place, taste food and drink, meet people, get different ideas. It's great because in our art, in our music, progressing with new things is the spirit of Sepultura." --Andreas Kisser
TRV: What would you say has been the biggest influence in your music these past 30 years?

Wow, it's hard to say. Of course, it's always been the bands we were listening to in the early years, from the start; KISS, Queen, and Black Sabbath, Zeppelin, Slayer, Metallica, Anthrax, Exodus, Megadeth. You know, that scene that was so influential to music. It's basically because of them we wanted to be musicians, we wanted to be in a band.

But, later, I think travelling is our most strongest form of influence. Just to learn a different language, go to a different country, taste different things, taking the time to understand the world a little better and respect different attitudes, different ways people live. China is very different than Argentina, Argentina is very different than Morocco, but they all have their metal fans who listen to this kind of music and that's probably the most influence that you can have professionally and personally.

TRV: I think you hit upon an important point on how to stay relevant in art by allowing yourselves to evolve. It's interesting that you mention the food and cultures, as well, not just other music.

You see the others who have hit their 30, 40, or 50 year mark in rock and roll, still jamming, and you see that they all reinvent themselves. They allow themselves to go through different phases, using different music, different elements, and it's great! That's what art is all about. It's very alive and that's the beauty of it. You just have to live that moment very hard and that's it. All the rest is just consequence.

TRV: So, with everyone having their own personal, individual experiences travelling, as well as together as a band, how do you put all those pieces together musically?

I write a lot on the road, so it's really important to record any idea on the smartphone; any riff, title of a song, notes from a book to write lyrics or something. That kind of stuff is going on all the time. And we listen to a lot of music on the tour besides the bands we're playing together with us. We listen to everything from Michael Jackson to Bob Marley, a wide variety of music. And we talk about a lot of concepts and ideas, but basically, everything starts with a guitar riff with a drum part or loop and start from there. Usually we'll have three or four different sounds we'll start to develop, then we'll take a practice room and bring it together.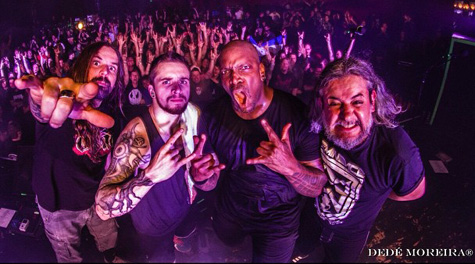 TRV: You're all strong personalities. Do you find collaborating difficult?

You know, in Sepultura, we all have our problems. Of course, Max left the band in 96, Igor left the band in 2006, we've had different drummers before Eloy joined, but we never, never had a problem musically speaking. Max did not leave the band because of musical differences. He left the band because of backstage stuff, like management and the business part. Whenever we were in the practice room, it was just us four and we always had a great time there. Regardless of the turmoil outside, we always had very focused energy to each other and enjoyed playing together. And that is the same nowadays. Of course, we have opinions and stuff but, there's something very natural that we develop when coming up with ideas and songs and anything can happen! Any stupid, crazy idea can turn into something really special.

TRV: Do you ever regret Max leaving?

It's not something to regret or not, it's just something that happened. And it's unfortunate, because he left at the peak of our career. Sepultura was touring around the world, we were playing arenas in Europe, and we had an amazing 1997 ahead of us. But, we couldn't go on with the way things were. Everything was so confusing, things were happening so fast at the time and we had different plans. We fired our manager, we tried renegotiating different terms so we could work as a band, but it didn't work out that way. It was his choice to leave, you know. That's what's very unfortunate. But, I don't regret our move or attitude at all. It was a professional move that we had to do.

TRV: And, look at you now!

Yeah, I tell you, in dark times, when one door closes, 16 doors and windows open at the same time! You cannot really be there crying and let life pass through, so we never lost our aim or urge. We respect each other and what we're doing and what we learned throughout the process, like how to be more careful with the business end of it. We are in a much better place today. Of course, the "Roots" period has passed, unfortunately, because we lost our momentum with Max leaving and everything. But, we're in a much better place now. We're in a much more relaxed atmosphere. We're really together. We talk to each other, not just about music. We talk about family, football, women, whatever. We're really friends and we're doing what we really believe in.

TRV: So, you keep your ideas recycled?

Yeah, yeah! You know, a riff when it's right, can be used in so many different ways. In an orchestra, or in Sepultura, or a different band, or a soundtrack or whatever. It's good to have at least a few ideas that we develop anywhere.

TRV: You know, I have to say it's overwhelming trying to process having this bank of inspiration, as well as constantly evolving. It's like an artist's wet dream to never run out of ideas. It's the ultimate! I think all of us have struggled with it.

Nothing ever comes through from stress. You really need to just let it flow, not over-do or over-think. Ideas are there, you just have to find them, and you have to meet them somehow. In order to do that, you have to have a clear mind, a resting soul, a good heart, and then things tend to happen. So we try to keep that flow, as well, and not be such a slave to everything. Respect, also…music. After all, there is no music if you have nothing to say.

While in the beginning stages of working on their next album, the band will continue on in North America until June 2015, when they jump back home to Brazil for a few dates in Rio and San Paulo, before moving on to the festival circuit in Europe.


Roots Bloody Roots - RIR, Las Vegas 2015 w/ Steve Vai



SUPPORTING LINKS
[Official Site]
[Facebook]

TOUR DATES
5/9 Las Vegas, NV at Rock In Rio (Sepultura Only)

With Boris The Bade and Micawber opening:
5/10 Phoenix, AZ at Joe's Grotto
5/11 West Hollywood, CA at Whisky A Go Go
5/12 Sacramento, CA at Ace of Spades
5/13 Portland, OR at Bossanova Ballroom
5/14 Seattle, WA at Studio Seven
5/15 Vancouver, BC at Rickshaw Theater
5/16 Edmonton, AB at Starlite Room
5/17 Billings, MT at Pub Station
5/19 Winnipeg, MB at Zoo Cabaret
5/20 St. Paul, MN at The Amsterdam
5/21 Madison, WI at High Noon Saloon
5/22 Chicago, IL at Reggies
5/23 Louisville, KY at Expo Five
5/24 Kokomo, IN at Centerstage Bar
5/26 Grand Rapids, MI at The Pyramid Scheme

With The Last Ten Seconds of Life and Starkill opening:
5/28 Toronto, ON at Opera House
5/29 at Montreal, QC at Club Soda
5/30 New York, NY at Webster Hall
5/31 Manchester, NH at Jewel Nightclub
6/1 Baltimore, MD at Ottobar
6/2 Norfolk, VA at The NorVa
6/3 Jacksonville, NC at Hooligans Music Hall
6/4 Atlanta, GA at The Masquerade
6/5 Fort Lauderdale, FL at Culture Room
6/6 New Orleans, LA at Publiq House
6/7 Houston, TX at BFE Rock Club
6/8 Fort Worth, TX at The Rail Club
6/10 Austin, TX at Empire Garage
6/11McAllen, TX at Cine El Rey
6/12 Albuquerque, NM at Sunshine Theater
6/13 Denver, CO at Summit Music Hall
6/14 Grand Junction, CO at Mesa Theater



ALL FULL REVIEWS FOR: SEPULTURA
ALL SUMMARY REVIEWS FOR: SEPULTURA
No Summary reviews currently exist for them.
ALL INTERVIEWS FOR: SEPULTURA
<< back >>