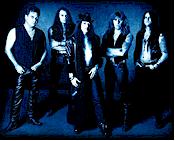 Tell us Nick, after two studio records, is Late Nite Romeo still active? Are there any plans to record a new album?

LNR is active. We want record a new album, but we need all our time now for live shows and the new material, also weīre searching for a record company.

If a new album is to occur will it be in the same style as the prior two records?

No. we have a new, very good Bassman, Markus Beck. He brings a new influence in the LNR Sound, more drive, more power. But it will be Heavy Rock.

In my honest opinion, Late Nite Romeo sounds like Guns N Roses meets HEAVINESS. The group does a great job mixing German hard rock staples like Scorpions and Accept with the California sleaze metal of the late 80s and early 90s. How would you describe Late Nite Romeo's sound to the new listener out there?

Its difficult because both albums sounds different. The firstīs more Hard Rock and the second album goes like Metal. I would say its simple, catching Heavy Metal with his own claim.

Looking back at the early days of the band, how did everyone meet and decide to do this style of music? I have to know if vocalist Jox has ever been in another band. His vocals are very lethal and are the perfect fit for this band. Have you been in any bands prior to Late Nite Romeo?

The style and sound was the influence of the members. Bassman Eddy comes in 1997, and me in 1998 in the band. Jox wasnīt anytime in a other band, heīs a member since the beginning of LNR. I play the guitars too with SLICE and some coverbands in germany.

I've only been able to track down a copy of "Horrible Lust" on CD thus far. Is the debut, "Adrenalized" still available anywhere? Myself and some of the other staff members desperately need a copy!

You can get both albums at our management TRANCE MUSIC - look at the links on www.LateNiteRomeo.de

What kind of shows have you guys played to support the first two albums? Any big shows that are special for you?

The greatest event was WACKEN OPEN AIR 2000 with 30.000 people and some biker festivals between 5 - 15.000 fans, also many club-gigs all over Germany and Austria.




"...power metal is like a fashion, hard rock/ heavy rock is legend"

What was it like working with famed producer Armin Sabol for the "Horrible Lust" recording?

Really easy - heīs coming to a livesession, hear it and take it! Because the songs are ready for, he had not enough possibility for some influence. But it was a easy, high professionell working with a crazy, good guy!

Do you see yourself possibly using Sabol in the future?

Perhaps, its a difficult situation now, between song writing, liveshows and may a new record company.

Do you find it hard to keep playing hard rock while power metal seems to be controlling most of the music scene in Germany? I've seen several hard rock acts turn into power metal bands over the years so I'm curious as to your thoughts on that.

No, why? I think power metal is like a fashion, hard rock/ heavy rock is legend. A mixture between is LNR. We will not go this direction.

If this was 1988 do you think Late Nite Romeo would be radio friendly? Who do you think the band would be touring with if this was 1988?

Oh, i think yes! We are really ten years to late. Many fans of us think so. Maybe we would touring with bands like PINK CREAM 69 (the early), ACCEPT, in the states Guns n roses (when we had the bags of money).

Is Late Nite Romeo the full time job for all the band members or does everyone have regular jobs as well?

Unfortunately we have all in the band "serious" full time jobs, the band and the music is like a hobbie.

Well its been a pleasure catching up with the band and getting some info on the current happenings. Keep us up to date on all the Late Nite Romeo news and upcoming shows. Best of luck in the future!!

At last Eric, one more time Iīm very sorry for the long time running and who need, also for the bad english! Still if i have news of the band, you will know this straightaway! But now itīs summertime and we take a break of all - itīs like Sahara in Germany.

Many greetings to you Eric, the Maximum Metal Crew and all the fans!--EC 06/26/03